Ticketing App & Event Booking System | Ticketebo
Leading live and virtual event booking & ticketing app for Event Organisers


Why choose Ticketebo's ticketing and event booking system to sell your tickets?
Ticketebo's ticketing solutions and ticketing apps are designed for you, the event organiser. We understand your needs. By utilising our online ticketing and registration solutions you will save time and money, freeing you up to focus on all the other important aspects of making your event a big success. Find out below why Ticketebo's ticketing and event registration platform delivers the right technology solution for your next event.
Here are the most popular reasons why Event Organisers choose Ticketebo as their preferred ticketing app for online event bookings and event registrations:
Virtual Events
Due to the challenges from the corona virus, more and more event organisers are turning to virtual / online events where possible. Our ticketing solution works brilliantly with those that wish to use this popular method of running events. Whether it is a small personal gig, a talk, comedy show, or maybe even a virtual Wine or Gin tasting, we can help. Click here for more information.
Patron Insurance
We have partnered with one of the World's leading insurance specialists to supply optional ticket insurance for your patrons. They get the choice at checkout whether they would like to pay a little extra for this insurance, which covers them for most unexpected occurrences. (Including the Corona Virus). This gives them, (and you) peace of mind knowing that they are protected for the cost of their ticket should the unexpected happen. For more information click here.
Our pricing – it's free for organisers
Free events are free on Ticketebo and for paid events we don't charge the Event Organiser anything! Our model is to charge the consumer a small Booking Fee of 4.95% (Inc VAT) of the ticket price. (This includes credit card charges, and all other costs inherrent with e-tickets).
For more information on pricing, please visit our Pricing page.

Your choice of web address
We want it to be easy for everyone to remember the web address of your event. So we let you decide the web address of your event page. Eg ticketebo.co.uk/yourname
Simply let us know your preferred web address when you register.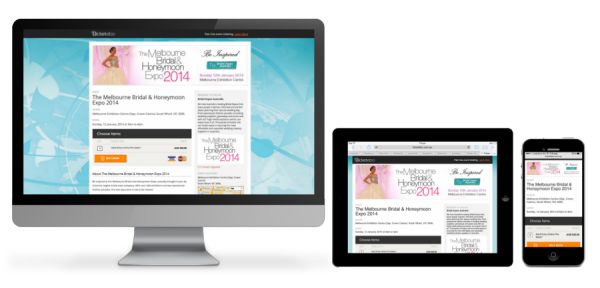 Great designs for free
We will design your event page and tickets for you (for free) to fit in with your website / brand/ or any other design guidance you may wish to give. - ensuring a smooth customer experience when they leave your website to purchase tickets at your event page on Ticketebo. Our event pages are also built using the very latest responsive design techniques - ensuring that your event page looks great whatever screen type & size your customers are using (incl. Smartphone / Tablet / Laptop / Desktop etc).
Barcoded ticketing & free entry scanning technology
Our Free Door Scan Manager & Ticketing App (for iPhone / iPad and Android devices) integrates seamlessly with the barcode embedded on all our tickets. Our entry scanning ticketing app enables rapid door entry to your live event from multiple synchronised devices; as well as detecting and alerting your entry personnel should a customer present a ticket which has already been fulfilled. Best of all this service is provided free of charge to our Organisers.
Alternatively, we can provide a manual list of ticket holders which you can manually check off at entry. And don't forget, we can also supply you with the staff, equipment and software 'on the door' if you need that additional service too. Contact us for more information and pricing.


General Admission and Allocated Seating
Whether tickets to your event are general admission or you'd rather allocated seating for your guests, Ticketebo can cater for either. Our seating plan technology has been designed to ensure optimal utilisation of seats at your venue, whilst ensuring groups still sit together and are not separated by aisles etc. Please talk to our Client Services team about the best ticket allocation strategy for your event. (Please note there may be additional charges for seating plan creation.)
Promotional tools for free
We have also integrated the very latest social media tools into our event pages so you and your customers can spread the word about your event - which is of course critical to event success in today's social media prevalent world.

Ultra safe & secure payments
Our payment processes and procedures are certified and fully encrypted by Norton/Verisign. For added security Patrons' card details are never stored by us, and our payments are processed through Safecharge and Wirecard, delivering full PCIDSS compliance.

Access your revenues before your event
We know how important it is for organisations to be able to access ticket revenues before your event. You can apply for a pre-event transfer of up to 50% of revenue, if approved we will deposit revenues into your organisation's account before the event (with the balance of monies sold deposited 5 days after your event).
Supporting registered charities
If you are a registered charity, through our Supporting Registered Charities program we will support your event by giving a 10% donation of all booking fees collected (via Ticketebo) from your event back to you.

Delivering excellence in customer service
Event Organisers and their customers seek exceptional service from their ticketing partner. We understand this, and take pride in meeting this expectation. Here is what our Event Organisers have to say about our service; ticketing app and event booking system.