Online Ticketing System | Free for Organisers | Ticketebo
A Powerful Online Carbon Neutral Ticketing System
Ticketebo is a powerful, simple to use online ticketing and event registration platform, delivering market leading ticketing services and event registration solutions to thousands of live and virtual events each year.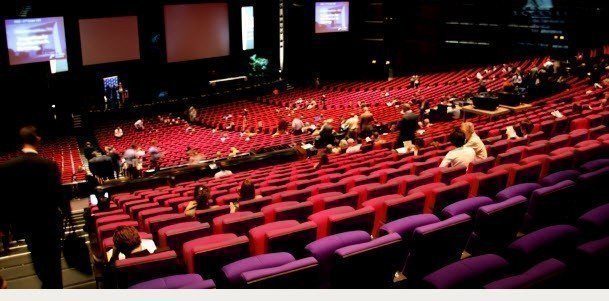 Ticketebo specialise in assisting organisers across all sectors (including festivals, sporting events, expos, conferences, schools and community events) professionally sell tickets. In January 2020 Ticketebo opened in the UK, and since 2013 we have been operating on Australia helping some of the smallest through to some of Australia's largest and best known events, and we now deliver an extensive suite of online ticketing and on site ticketing services in the United Kingdom too.
So far since opening in the UK we have supplied an array of event organisers across both in person and virtual events (despite Covid!), including Bonfire and Firework Nights for up to 15,000 people, County Shows and Steam Rallies as well as Drive in Movies, Nightclubs, Music Venues, Caravan Parks, Wine Tastings, and numerous events for Charity and we are the supplier of choice for many more organisers, including several rotary clubs, food festivals and more. Major Venues where Ticketebo sells tickets for events in Australia include: Melbourne Convention & Exhibition Centre, Melbourne Showgrounds, Caulfield Racecourse, Sydney Olympic Park Athletics Centre, Queensland Sports & Athletics Centre and even the home of the Australian Prime Minister, Kirribilli House, on multiple occasions!
Ticketebo also offers ticket sales for virtual events, whether it be for webinars, lectures, 'virtual wine tasting' or maybe even a small intimate gig for a select few super fans! Click here for further information.

We invite you to check out some of the online ticketing pages our organisers have created...we think you'll agree they are stunning and effective. The flexibility of our online ticketing system enables organisers to create a ticketing platform for their event which complements their event's reputation and brand. A ticketing site professionally designed for optimal online ticket sales which mirrors the look and feel of your website!
Free and easy to set up, and simple to customise. As Ticketebo is all web based, there is no special software or modules to purchase. You don't have to pay for third party set-up or require any special training; even our entry management ticket scanning software (which is included for free for all events) runs on all standard smartphones.
We take the headache out of online ticketing, allowing you more time to focus on organising your event. And you can also have the peace of mind that you are using a carbon neutral supplier. To find out more click HERE.
Of course, if you need any assistance, our customer service team is just a phone call away. Or you can chat live to us now using the live chat function at the bottom right hand side of your screen.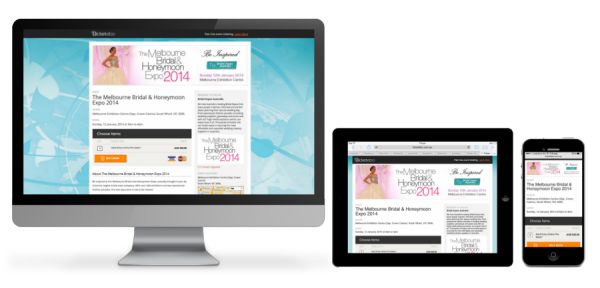 Pricing
Ticketebo is free for organisers! There are no set up costs, no registration charges, no monthly fees or expensive payment gateway costs. Instead the consumer pays a small booking fee, which covers all of our bank processing charges and the running costs associated with our business.

What about free events? They're free on Ticketebo's ticketing system too, with no charges to organisers or consumers.
For more about pricing visit our pricing page.

What can Ticketebo be used for?
Whether you want to sell tickets online for 100 to 100,000 people for your next event – Ticketebo will work for you. In fact, Ticketebo can be used for pretty much anything where you need your customers to register their details to confirm their place.
Ticketebo is used for virtual events, festival ticketing, exhibition ticketing, conference registrations, online ticketing of school events, registrations for sporting events, club membership registrations, bookings for professional tour operators and theatre ticketing. Our Supporting Charities Program also ensures that charity and fundraising events are very popular on Ticketebo too.
If you have specific needs for your next event – you can chat to us live online using the chat function (bottom right hand section of your screen), or alternatively drop us a note to sales@ticketebo.co.uk or call us on 01617 680 580.

So what do our event pages and tickets look like?
We love to hear from organisers how much they love their web pages on Ticketebo, and how great their tickets look.
(Click on the images below to view examples of two event pages recently on Ticketebo)
Our simple to use, professionally designed templates and online ticketing solutions ensure that everyone's event page and tickets look stunning.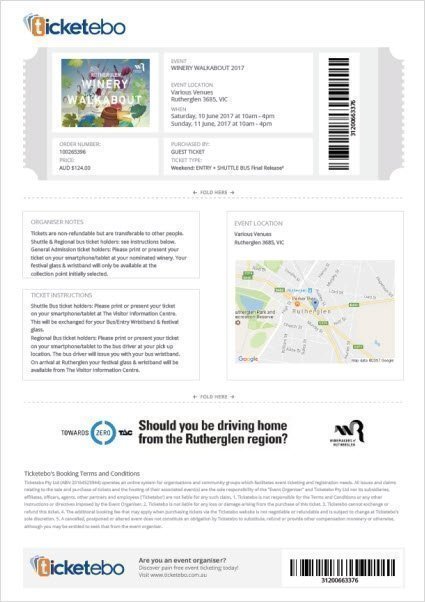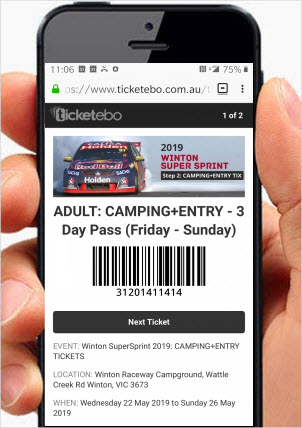 We do it all for you. When you register your event with us you supply us a brief, and we do all the design work (using your images) for you for free. In addition we can also offer hard tickets and Souvenir Tickets for your event, as well as bespoke Lanyards and Wristbands. Souvenir Tickets & Lanyards

How do people buy their Tickets online at Ticketebo?
We ensure the process of buying a ticket is really simple.
Whether you advertise your event through a website, or social media (or both), your customers click the link through to your ticketing page. By visiting the web address you created for your event (eg ticketebo.co.uk/yourname), our simple 2 step checkout process ensures your customers select and buy their tickets quickly and easily. They instantly receive their tickets or registration by email the moment they complete their purchase. (Unless you have specified souvenir/hard tickets, in which case we will work with you to agree when these tickets should be sent out to your patrons.)
What if I want to sell tickets at my event on the day?
No problem! We can supply you our on site ticketing solution. If you need it we can also supply staff to man your ticket kiosk, and also the hardware, software and the ability to take card payments on the day to issue tickets to members of the public that have not bought tickets in advance. Follow this link to find out more.

How do I get started?
Using Ticketebo is quick and easy, and we can usually have you selling tickets the same day.

1. Register your details
Register the details of your event here, where you will also choose your preferred web address for your event (eg ticketebo.co.uk/yourname).

2. Build your event page
Simply supply us with any images and artwork you have, tell us what your pricing model is, the types of tickets you want to sell, and any other relevant information, and we will design your pages for you. You of course get final sign off on the finished designs.

3. Promote your event
Let the world know your event's web address and watch the sales revenues start to roll in


More questions?
Check out our Frequently Asked Questions for Event Organisers, or chat to us live using the live online chat function on the bottom right hand side of the screen. Alternatively drop us a line at sales@ticketebo.co.uk or call us on 01617 680 580.
Want to read what Event Organisers say about Ticketebo? We hope the following independent reviews from other Event Organisers resonate well with you as they share their experiences about using our services.